You tell us where you want to go and will customize a tour for you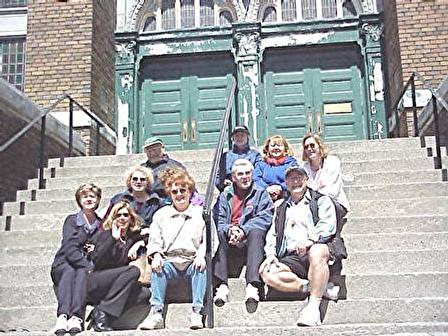 Tour Cost and Description
1. $100Cdn minimum 2 hours
2. Can be one person or 101
3. $25 for each additional hour
4. Transportation, extensive planning, food extra
5. Tour can consist of walking, bicycling, private car, bus, rapid transit...you name it.
6. Tours throughout Southern Ontario can be arranged.
Sample tours;

(1) Walking tour of downtown Toronto--The Entertainment district, (including The Royal Alexandra and Princess of Wales Theatre, Roy Thomson Hall, The Second City, Metro Toronto Convention Centre, the biggest concentration of dance clubs, bars and restaurants), Skydome, the CN Tower, funky Queen St West, China Town and the Kensington Market, the AGO (Art Gallery of Ontario), the Grange.

(2) Bicycle Tour --along the waterfront, West along the Martin Goodman Trail past the CNE, Ontario Place, Sunnyside, to Humber Bay Park --or East along the same trail to the Beaches --on the shore--sand beaches, volleyball, or up onto Queen St East and its great restaurants, cafes, bars, and shops.

(3) Car, Van or Bus tour--through Central downtown/Eaton Centre, Yonge Street, Old and new City Hall, the flagship store for the Bay, Canon Theatre, Elgin and Winter Garden Theatre Centre, Massey Hall, Bay Street. Church/Wellesley and is one of North America's largest and most vibrant gay and lesbian communities. Little Italy--and one of the coolest parts of town for nightlife, dining and bar hopping. Danforth/Greektown--wonderful Greek food, and in the summer some of the latest bar closing times in the city. Bloor/Yorkville--posh shopping, dining and gallery, Toronto's ritziest neighbourhood, Royal Ontario Museum, Gardiner Museum of Ceramic Art, the University of Toronto. Forest Hill--one of the wealthiest communities in Toronto with its own little Village Centre, just south Canada's famous castle--Castle Loma, Spadina House, Oakwood.
(4) One day tours can be arranged to Niagara Falls, The 1000 islands, Stratford's Shakespearian Festival, The Shaw Festival or other destinations.